Your Complete Guide to Dental Veneers In Hinsdale, Chicago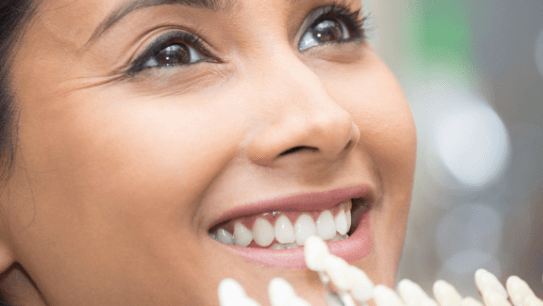 Improve Your Smile with Veneers in Hinsdale 
Do you often catch yourself feeling self-conscious about your smile? Do you cover your mouth when smiling or avoid smiling in pictures because of damaged teeth? If so, dental veneers may be a viable option for you. 


What are Dental Veneers?
A veneer is a thin, custom-made, tooth-colored shell that masks a tooth's imperfections. Veneers are a cosmetic procedure and a great way to transform your smile. If you struggle with discoloration, gap teeth, misaligned or misshapen teeth, and other cosmetic dental  issues.


Types of Veneers
Dental veneers come in two main types: porcelain veneers and composite veneers.
Porcelain veneers offer stunning aesthetics and are impressively durable and stain-resistant. They're made in a laboratory from your dental impression and require at least two visits.
Composite resin veneers are relatively robust and durable and can be completed in one visit.


Do I Need Veneers?
Dental veneers can help individuals that want to feel more confident in their smiles.
You may be a good candidate for dental veneers  if you have the following: 
Slightly misaligned teeth 
Gaps in your teeth 
Discolored teeth 
Chipped or cracked teeth 
Worn teeth 
Misshapen teeth 
Unusually short or small teeth


What to Expect With Dental Veneers in Hinsdale
If you're interested in dental veneers in Hinsdale , you should expect to make at least one to three trips to Weller Dental. 
Below is a step-by-step breakdown of the dental veneers application process:
The dentist trims the front surface of your natural tooth to remove enamel equivalent to the veneer's size and thickness. Local anesthesia may be used for the patient's comfort.
With the help of a shade guide, Dr. Weller determines the color that closely matches your natural smile.
Your dentist obtains dental impressions manually using dental putty or an intraoral scanner.
You may choose to have temporary veneers while you wait for your restorations. Usually, the dental lab fabricates your custom permanent veneers in two weeks. 
On your final appointment, Dr. Weller checks the fit of the veneers for the perfect fit. Then, it etches or roughens your tooth to encourage better attachment and then bonds the restoration in place. Excess dental cement is trimmed, and final touches are made to ensure a polished look.


Benefits of Veneers
Dental veneers offer numerous benefits to individuals struggling with various cosmetic dental problems. These include: 
Veneers transform your smile dramatically while still looking like natural teeth. 
Veneers dental procedures shouldn't require extensive enamel removal, which makes them friendlier to tooth structure. 
Porcelain veneers are stain-resistant. 
They are well tolerated by gum tissue. 
They are low maintenance. 
They can correct multiple dental problems with one treatment option. Both chipped and discolored teeth can be fixed by using dental veneers. 
They boost self-confidence and allow you to smile without inhibition.


Transform Your Smile with Veneers in Hinsdale, IL
Are you finally ready to get started on your long-overdue smile makeover ? A more confident and attractive smile can transform your life in more ways than one. Regardless if you need one veneer or enough to cover a number of teeth, we are here for you. Contact Weller Dental in Hinsdale, Illinois , today. We care about our patients and the health of their smiles.