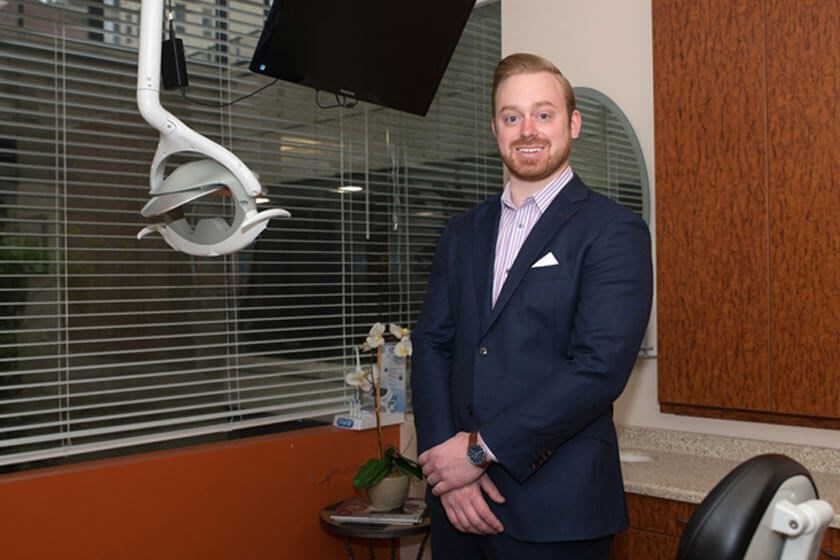 Dr. William Burns is a highly skilled and trained dentist who provides quality dental care to each of his Chicago, IL patients. At Weller Dental, he works to understand the smile goals and needs of each patient to formulate personalized procedure plans that can achieve their desired outcome and improve their dental health. Dr. Burns comes from a long-standing tradition of family dentistry. He is a third-generation dentist who followed his grandfather, uncle, and father into practice.
With extensive training in all areas of dentistry, Dr. Burns provides cosmetic, preventive, general, and restorative dental procedures for his patients at Weller Dental. He is able to create beautiful, natural, and restored smiles through treatments such as smile makeovers, teeth whitening, and porcelain veneers. Dr. Burns also evaluates the oral health of his patients by conducting dental examinations using innovative technology including advanced digital imaging. Additionally, he provides several general dentistry procedures including periodontal treatments, inlays and onlays, and tooth-colored fillings.
Dr. Burns graduated from the University of Illinois College of Dentistry in 2016. While in school, he received the Adalbert L. Vlazny Award for excellence in restorative and cosmetic dentistry. He also served as president of the prestigious dental fraternity Delta Sigma Delta. Prior to dental school, he attended the University of Wisconsin-Madison where he earned a degree in neurobiology.
When he's not practicing dentistry, Dr. Burns can be found outside on the tennis or paddle court, skiing, or cheering on the Cubs, Badgers, Hawks, and Bears. Dr. Burns is excited to join the team at Weller Dental and is looking forward to the opportunity to begin caring for your oral health needs!
Reviews
"Dr. Weller and his entire staff are as professional and as nice as they come. They have made every accommodation to fit me in whenever I have a dental issue and with such a nice attitude. Tina Weller runs this office so efficiently. I have always had such a horrible fear of going to the dentist and Dr. Weller has handled my anxiety so well. I chipped my tooth while on vacation and Tina fit me in with Dr. Weller's associate, Dr. Burns. What a nice guy and great dentist! Dr. Weller's office lives up to their great reputation. I always feel like I'm in the best hands."
J.A.
Facebook
"Dr. Burns was amazing. Friendly, helpful and nice. Happy to have him as my denttist."
R.
ZocDoc
"Dr. Burns was great. Visiting the dentist is not alway my priority. It was great to visit an office that is professional, runs on time and explains everything in a way I can understand. Dr. Burns was also very gentle & calming."
T.
ZocDoc
"My visit with Dr. Burns was great. He was very professional and knowledgeable. I felt comfortable and well taken care of. I will definately recommend him to friends and family."
M.
ZocDoc
"Dr. Burns has been absolutely wonderful! There is always a minimal wait & he does a great job of easing the tension I have about gone to the dentist. I can't say enough positive things about Dr. Burns, and would highly recommend him."
K.
ZocDoc
Related Posts